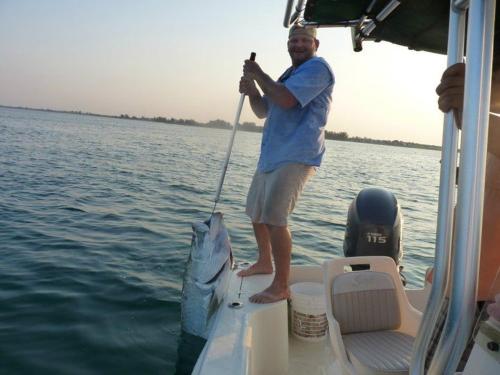 Come fish our bays, flats and gulf coast waters for Tarpon, Snook, Redfish, Trout, Spanish Mackerel, Kingfish, Cobia, Permit, Jack Crevalle, Snapper, Pompano, Grouper, Amberjack, Tuna, Mahi Mahi and other  species that either make Sarasota their home or migrate along our shores. SARASOTA IS TRULY A WORLD-CLASS FISHING DESTINATION.

Sarasota waters offer a diverse, healthy, and beautiful ecosystem that provides many different options for all types of anglers. It lies between two ecologically rich estuaries, Tampa Bay to the north and Charlotte Harbor to the south. It?s this unique location, along with over 30 miles of pristine beaches, bays and passes, that has transformed this area into a remarkable fishing paradise. Sarasota has been host to numerous national fishing tournaments and is home to what is believed to be the oldest Tarpon Tournament in existence today. The Sarasota Sportfishing Anglers Tarpon Tournament has been held every spring since 1930.

From mid May through August we have some of the best Tarpon fishing this planet has to offer right here off our beaches. Sight fishing the silver king in the clear waters in and around Sarasota should be on every anglers bucket list.

Whether you?re a novice or a seasoned angler, we invite you to fish the crystal clear Sarasota waters where you will experience  nature-filled angling memories sure to last a lifetime.